Wyethia" 5"x 7"
"These botanical illustrations by
Kristie are in the gardening
book "Sharing the Knowledge,"
compiled and produced by the
Master Gardeners of Tuolumne
County. It was a privilege to
work with them."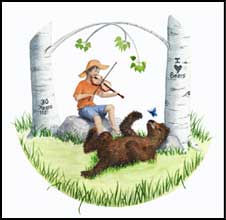 "A Boy a Fiddle and a Friend" 11"x 11"



Whimsical characters are so much fun. I love giving them personality and telling a story with each illustration.
These characters always
take me to a refreshing, carefree state of mind.
I can imagine their
conversation and mirth.