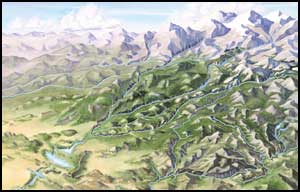 Stanislaus Watershed: 22.5" x 14"
Beardsley Interpretive Trail is slated to be installed the summer of 2011. Located along the shore of the serene Beardsley Reservoir off California's Highway 108 in the Sierras, this series of engaging interpretive panels takes viewers on a journey through the history of the Stanislaus River.
Beginning with the era of native Mi-Wuk Indians, through the gold rush, and on into the industrial age, the trail highlights man's ingenious efforts to meet our growing need for water resulting in construction of several large scale dams. The need to care for this beautiful river for future generations is also emphasized. I consulted with local historians and studied local historical sites and artifacts to provide an accurate and entertaining window into the past.